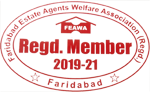 FEAWA – Faridabad Estate Agents Welfare Association (REGD)
(2062) 21-8-1987, Regd. No (HR 019 2013 00695).
FEAWA Started in 1987 Under president ship of late Mr O.P Jhanp. Under General Secretory Shri Arun Mittal, Treasurer Late Mr Satpal, Vice President R.S Aggarwal and Secretory Sudhir Jain.
Thus joining hands with the government bodies in promoting the social values. Also making efforts to curb down the corruptions in various manners. Moreover Promoting Transparency to make a corruption free environment in HSVP (Haryana Shahari Vikas Pradhikaran) / Revenue offices in Faridabad. Also making Successul online/ Digital Systems of property in HSVP Department.
Faridabad Estate Agents Welfare Association
Faridabad Estate Agents Welfare Association an We structured organisation, active in the field of property Consultancy. Thus Providing experienced services in Faridabad Property particularly.
FEAWA Faridabad Supporting a lot for social Causes. Hence organises regular blood donation camps, helping handicaps, blinds & other destitute, Free Dress/ Books Distribution Schemes, Religious functions & also Joint marriage functions. Moreover publishes an annual FEAWA Directory Providing Information of HSVP, Police, Medical, Sports, Tours & Travel also.
Faridabad Property dot in Is proud to have its one of the elite member Mr Pankaj Garg as the Prime member of Sports Committee of Faridabad Estate Agents Welfare Association (Regd) for the Year 2019 – 2021 as a result.
FEAWA
Divided its all registered Members Under 6 Zone in faridabad and Greater Faridabad Namely as Under
FEAWA Zone Wise Faridabad
FEAWA Zone
Locations
1
NIT, Sainik Colony, ESIC Chowk, Sector 23, 49, 55, 56 Ajronda Chowk, Dhauj, Sohna Road.
2
Sector 21 Faridabad (A, B, C, D), Sectors – 45, 46, 48.
3
Green Field Colony, Ashoka Enclave, Palla Tilpat Road, Sectors 37 Faridabad, Sector 34.
4
Sectors – 16, 16 A, 17, 19, 19-28, 28, 29, sector 31 Faridabad, 30-33,  Spring Field Colony,
5
Sectors 12, 14, 15, 15A
6
Sectors – 2, 3, 7( A, C), 7-8 Dividing, 9, 10, 11, 11D, 62, 64, 65, ballabgarh, Ymca Chowk,
BPTP – Greater Faridabad
Sectors – 79, 81, 84, 85, 86